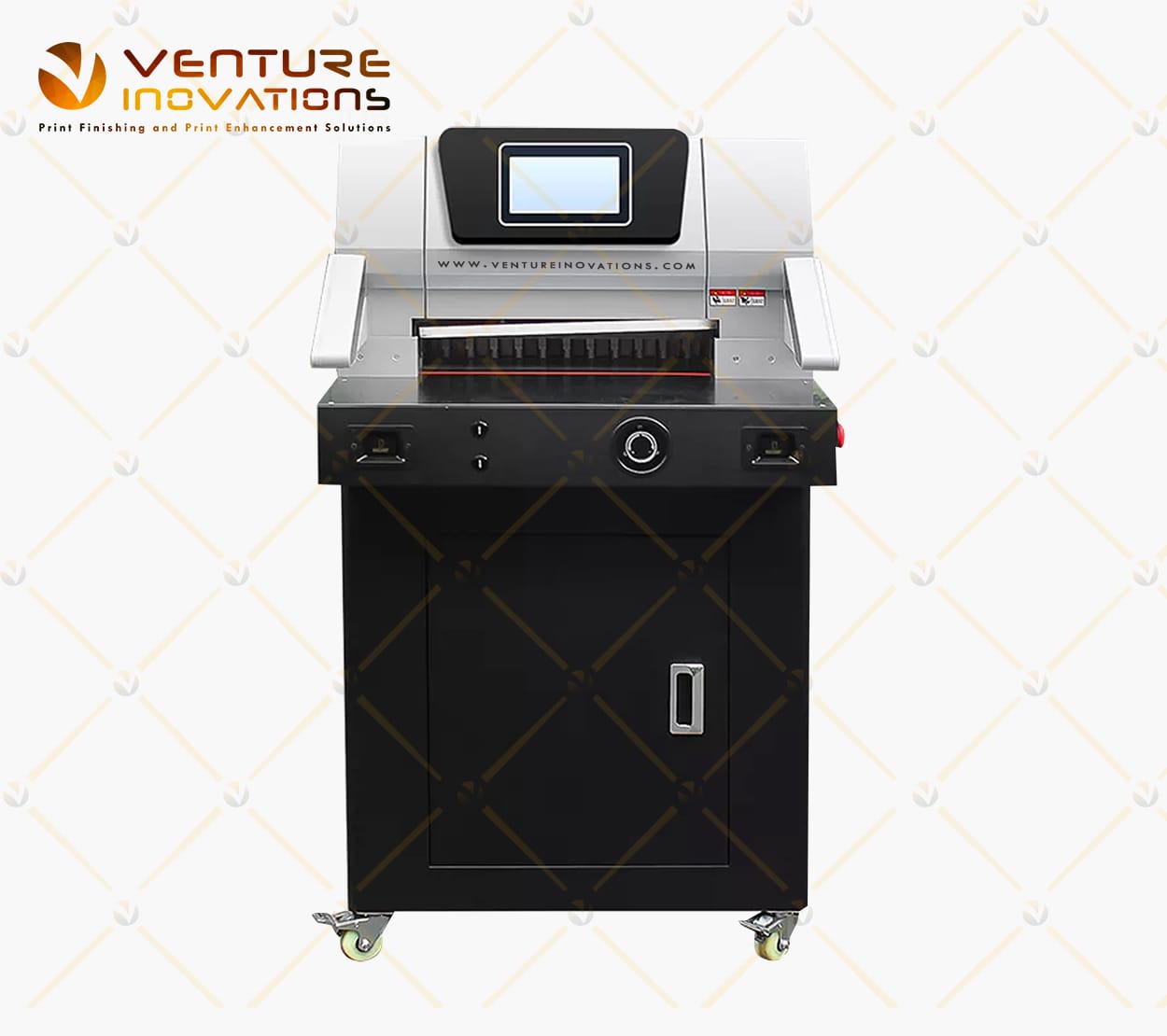 Venture offers a wide range of Digital Paper cutters for Digital printers/ photo album makers and commercial offset printers. These machines are compact and hence occupy less space, have robust technology and are backed by excellent after-sales service from Venture. These models have become the need of the hour for the industry.
Touch screen display.
The self-developed control system runs smoothly to ensure precise control of the machinery.
Integrated casting gantry design is adopted with high cutting precision and is not easy to deform.
Ultra High responsiveness, Object recognition ability, millisecond responses with CE Standards.
Double automatic breaker safety.
T – Type screw Double push guide rail to ensure walking accuracy.
Independent Electrical Cabinet design to protect the main board & Circuit safety.
Running Swing Arm Structural Design to ensure cutting accuracy.
80 mm cutting thickness.
Blade height adjustment from outside.
Program setting for repeat jobs.
One key is access to commonly used cutting sizes to improve work efficiency.
Centralized control circuit for easy maintenance.
Max Cutting Size(mm) – 500 x 500 mm
Display  – 7″ Touch Screen
Max. Cutting Thickness (mm) – 80 mm
Min. Cutting Size (mm) – 25 mm
Cutting Length behind Knife (mm) – 500 mm
Cutting Accuracy (mm) – (±) 0.2 mm
Press Mechanism – Electric
Cut Mechanism  – Electric
Pushing Mechanism – CNC
Programmable – Yes
Power – 220V, 50/60 Hz , 750W
Machine Size (mm) – 990 * 790 *1200 mm
Net Weight (Kgs) – 220 Kgs.