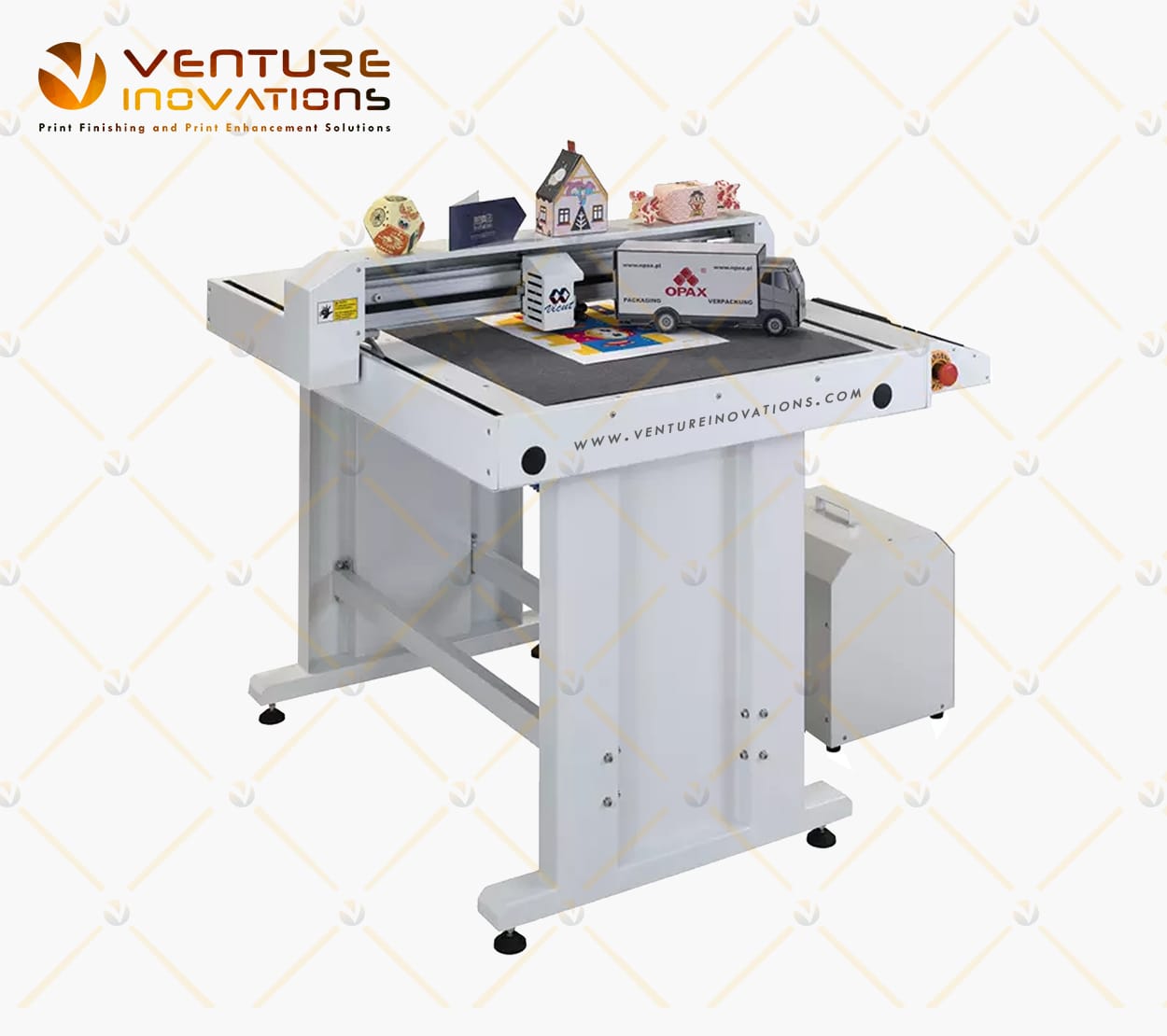 Venture offers a Digital Cutter with Proper alignment is achieved by black mark reading for every sheet; a camera equipped with i-mark technology performs black mark reading adjustments in a few tenths of a second. In addition to the half cut for adhesive sheets, heavy cutting may also be performed for all the applications which require that, such as labels, business cards, shaped business cards, small boxes and more; it successfully cuts cardboard with weight ranging from 150 to 400 gsm.
Direct USB makes the at bed cutter reliable and convenient 
The linear guide of the at bed cutter ensures high speed.
The Flat bed cutter feature imported digital servo drivers and their SD cards offer mass storage. 
The powerful compatible function enables connection with many different kinds of software. (We offer Dragon Cut)
The Flat bed cutter has an LCD touch screen.
Affordable digital sheet cutting.
Versatile and fast, sheet fed packaging production.
No cutting dies required.
Two tools enhance productivity with folding lines as well as cut lines.
Digitally cut and crease any shape on card or cut labels.
Dual tool Flatbed cutter.
Easy to Use.
Various Material can be Scan.
Dual Cutting Head – Blade & Ball Bearing Creasing Tool
Working Method – Contour Full Cutting & Kiss Cutting, Creasing, Drawing
Machine Size (inch) – 18 x 23
Cutting Speed – 600mm/s
Cutting Force – 510g
Maximum Cutting Weight – 450g
Minimum Cutting Size – About 5 sq.mm
Positioning Sensor Type – Optical Sensor
Repeat Accuracy – < 0.05mm
Contour Cutting Area – Effective Contour Cutting Area: 457 x 609 mm
Effective Cutting Area: 467 x 629 mm
Media Hold Method – Vacuum Suction
Cutting Control System – Servo
Connectivity – USB Interfaces
Software and Compatibility – Dragon Cut Pro
Power Source – 220V 600W
Package Dimension – 123 x 99 x 31 Cms
Net Weight – 47kgs